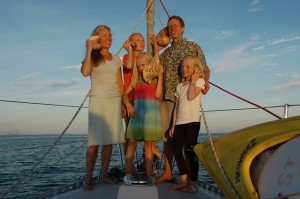 This interview was jam packed with useful information for inspiring traveling families! Jamie and Behan Gifford have been living aboard their sailboat for over 5 years! They were kind enough to share some time with us from Thailand, and give us some insights on how they've been able to live a life millions dream of!
They were very honest about some of the trials they've had leading up to the trip, and it was a great reminder that life is fragile and short and we should all be grabbing it and living it with BOTH hands!
Another highlight was their honesty with finances, how they were able to finance the dream, and some of the possibilities of working abroad, dealing with work visas, etc.
They also had some good advice on taking kids on these adventures, what's the best age to travel abroad with kids, and how their adventure has impacted their family. Great Stuff!
Show Notes:
Their website is very well put together, and updated often, it's a ton of fun to follow them as they travel. They also would love to hear from our listeners on specific questions! Be sure to check them out at: www.sv-totem.com